Whatever your goal is – muscle growth, fat loss or 'maintenance' – it is important to know approximately your daily calorie intake. Thanks to various handy apps, counting calories is now a lot easier than it used to be. We've rounded up three of the best calorie counter apps for you.
IN THE PAST…
In the past we kept track of our daily food consumption in an Excel sheet. We entered the calories and macronutrients (carbohydrates, proteins, fats) into it, which we read off the packaging or looked up via websites with those calorie tables. That sounds unnecessarily old-fashioned in 2019, because thanks to the mobile apps below, everything is so much easier.
The most important tool with today's calorie counters is scanning barcodes on food products, which gives you all the nutritional values ​​right away. We have therefore limited our selection to apps that have this functionality, which uses your smartphone camera.
LIFESUM (IOS, ANDROID)
Lifesum is one of the most popular calorie counters and lifestyle trackers in our region. The latter means that the app keeps track of the extent to which you are working towards a certain goal. In the case of Lifesum, this means 'being healthier', 'losing weight' or 'gaining weight (get stronger muscles)', and that is linked to a period, so for example a certain target weight that you want to achieve within four weeks. For true bodybuilders seems to us that lifestyle tracking 'not suitable: bulking and cutting are more complex processes than 'just' lose weight or recover. And the result can often only be determined in the mirror.
Nevertheless, Lifesum as a calorie counter is also a very handy, user-friendly app for bodybuilders, both for when you want to make a nutrition plan and for keeping track of your food intake. All you have to do is scan the products you use and Lifesum calculates the calories and macronutrients based on your quantities. The vast majority of products that we bought in a Dutch supermarket were recognized by the app. You can save products that you use often to your favorites and that way you can add them directly to your nutritional intake from now on.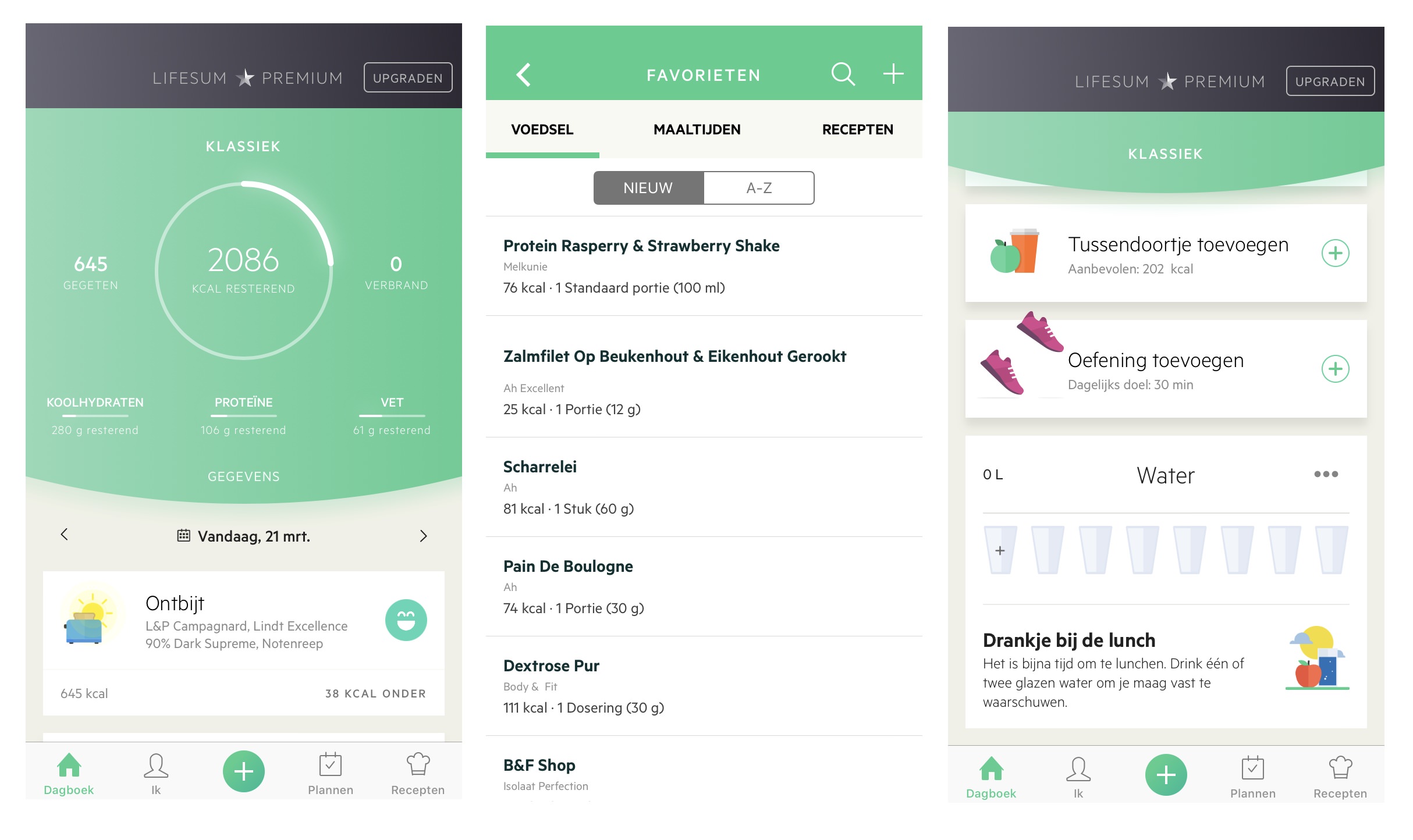 LOSEIT! (IOS, ANDROID)
With LoseIt! from FitNow you can scan foods, manually look them up or simply take a picture of them. Set your target weight and the app will calculate how many calories you can consume daily. LoseIt! also keeps track of which macronutrients your calories come from and as well as your water intake. Unique functionalities are that you can participate in challenges or create a challenge yourself and challenge your friends. You can also plan meals and get suggestions on how many calories a meal should contain. Finally, you will also gain valuable insights into your eating habits and can understand the eating patterns that are holding you back from your goals.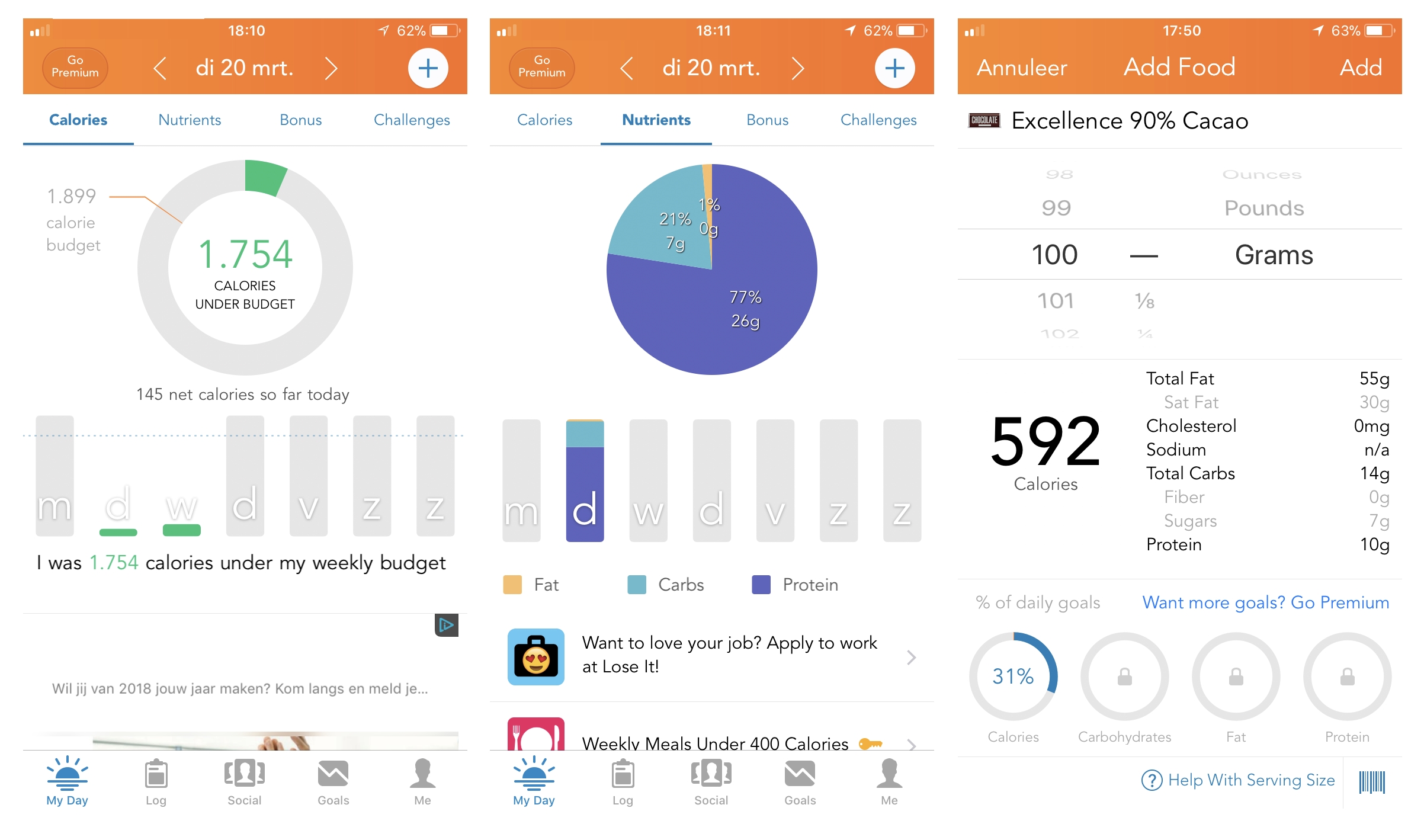 MYFITNESSPAL (IOS, ANDROID)
MyFitnessPal is a popular American fitness app. The calorie counter of MyFitnessPal has a database with a growing number of more than six million food products. In addition to your calories and macronutrients, the app also tracks how much fiber and cholesterol you consume. Useful, from a health point of view. You can receive personalized goals or enter your own goals. You can also follow a diet with your friends and motivate each other. The app also registers all your cardio and strength training sessions, and provides you with complete progress reports.